100 Barrels of Chile, 2011 vintage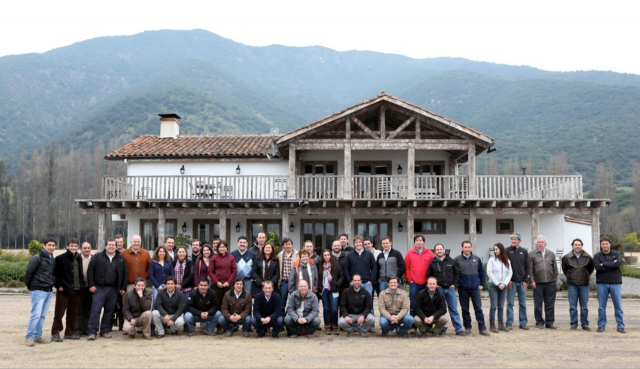 Joining together in one wine chilean wine industry. Lunching: august 2013. An idea never heard of in the world before.
The idea was to "join together and unify" for the first time in chilean viticultural history  and that of the world, 100 barrels of one same grape variety coming from 100 wine companies all together to achieve 1 wine as a starting point that can represent an x ray of that variety and the diversity of our winemakers and valleys.
The result is one bottle of red wine of very high quality that joins together the chilean wine companies obtaining by this means a "unique wine of all".
What is very particular is that each winery contributed with one barrel of cabernet sauvignon not yet blended according to their style, their valley and barrels used in the 2011 harvest. a base team of 7 winemakers agreed upon a "new"style for the final wine, which would blend the selected wines coming from the 100 wineries.
The challenge was to place in one bottle, different styles, multiple valleys, and different oenological focuses, diversity in tastes and with utmost respect for the emblematic chilean variety.
Wine.
Each winery sent two alternatives of wines which after different tasting sessions of each valley; one barrel was selected from each, which would be used in the final blend.
We defined an oenological protocol as also the style/seal of the wine we were to develop and according to this, every two weeks we had tastings in different valleys where we tasted and pre selected among the alternatives we received from each winery. In the 14 tastings held a total of 85 winemakers participated actively in all the process
Concept: cabernet sauvignon: of medium body, alive and fresh, fruit well marked. most distinguishable the elegance, this is a deep wine with soft tannins, with well balanced wood and rich in combination of nuances.
This exclusive bottle top winemakers 100 barrels of chile, version cabernet sauvignon, shall bear on its label the names of all the wineries whom participated according to they valleys where they come from.

"7 oenelogical directors are the permanent and base team whom decided the style of the final wine. In each of the tastings held we invited other winemakers from different valleys according to the different phases of the project. In total 14 tastings with 85 winemakers."