5X20
2010 Vintage
In this second project we joined together 10 of the highest ranked wineries of chile through their winemakers, (attached brief pdf) working in two independent oenological teams whom developed two wines of very high quality "both modern and creative": 5 female winemakers developed a wine with cabernet sauvignon as the base wine and 5 men winemakers made another premium red wine with base of syrah.
What is most particular is that each one contributed with a 20% of a variety/ wine not yet blended according to each ones style, valley and barrel used of the 2010 harvest.
The winemakers proposed and agreed a "new" style of final wine blending each the 20% corresponding to the winery each one represented.
The challenge was well accomplished; both teams were able for the first time in chile and the world, jointly tie different styles, opposite personalities, different tastes, and diverse oenological focuses with utmost respect for the potential of the grapes from each vineyard of origin.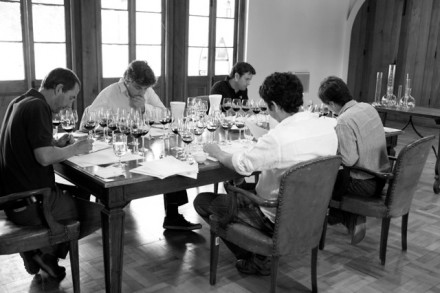 Concept 5 female winemakers.
We developed a proposal with identity and character, a style of wine that in some way represents the creativity of chilean women winemakers.the structure is cabernet sauvignon which allowed us potentioate the elegance and obtain a wine which is "alive" in its final blend.
It is a wine with good concentration, well balanced, fresh and with good acidity. We developed a proposal that left behind the oenological aesthetisism; this is why we leaned more towards a non pretentious wine, but an honest, very solid and franc product.
This is a "seductive" wine.
Concept 5 men winemakers.
"W achieved a fibrous wine, fresh and low in tannins.
The base is syrah and that tipicality is what we took most care for. the challenge was to achieve a wine with nerve, with personality and good concentration, identyfiable through its aromatic proposal.
We leaned away from the heaviness and matureness. this is a wine which respects acidity, a clean wine.